Events of Expat Center East Netherlands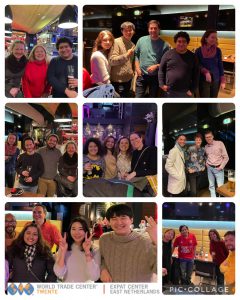 The Expat Center organises about 16 events per year for internationals and HR employees of companies. These events vary from the monthly expat Meet&Greet in Enschede, outings in the weekend and information meetings about practical topics like taxation, buying a house, finding a job or cultural awareness.
Join our events and expand your network ! Follow us on Facebook  and LinkedIn and keep an eye on the events & news on this website.
Social groups
Making new friends and building a network is essential for making your stay abroad succesful. In the east of the Netherlands there are several social groups who you can connect with. To name a few:
SIVE; is an organisation for international women in the Twente area. They organise events, workshops and conversation Dutch groups
Alifa;  connects people of all nationalities and offers them assistance with practical matters like language, volunteer work, and getting settled in Enschede
Several

Facebook groups

like Expats Zwolle, Expats Deventer, Expats Enschede, Enschede Excapades, Pappa en Mamma cafe.
Culture & music
Every main city will have a cinema and theatre (and often a few of the latter) with a variety in music, opera's, dance, plays and cult movies and performances.
Tickets can be bought on line or at the door, although buying in advance is advisable to make sure you'll have the tickets you want.
All through the Netherlands, and also in the Twente area, the popular open air music festivals are held. From May to September these festivals are held for 1 day, but sometimes also 2 days. Check this website for an overview.
Fun & shopping
Bowling, karting, billiards or laser gaming is a nice way to spend time with your friends or family. In the Twente area there are several possibilities varying from these indoor to outdoor activities like canoeing, golf or rides on solex scooters.
Shopping can be done everywhere of course, and Twente offers a broad pallet of shops both big stores for furniture or clothes as well as small specialised shops with comic books, decorations and music. Huge shopping malls are not very common in the Netherlands, mostly the shops can be found in a few streets in the city centre. And as the Dutch are used to a little DIY, you'll find plenty of specialised hardware stores with tools, paint, etc.
Fun with kids
Indoor playgrounds are common, where you can buy a big jug of lemonade for a couple of Euros and let the kids go their own way. Playgrounds ask a small entrance fee, but you can enjoy yourself all day. Sometimes a (small) restaurant is available as well so you don't have to worry about bringing food yourself.
Outdoor playgrounds can be found in the residential area's with a sand pit, climbing racks, soccer goals and basketball field; a great place to meet other parents and make friends.
Theme parks are ideal for a full day of amusement with the whole family. You'll find a few in the Twente area, but much more spread all over the country. They vary from smaller parks especially for the youngest children, to a specialised roller coaster park for the older kids.