Expat Center East Netherlands is one of the departments  of the World Trade Center Twente with the main goal to offer services to international oriented companies and to inform expats about all the important aspects when moving to the east of the Netherlands.
We have our main office in Hengelo, but work twice a week together with the IND (Immigration Service) from the Stadskantoor in Enschede, to assist non-EU internationals upon arrival with the registration and immigration formalities.
We aim to realize a fast and smooth introduction for expats and their families to this region by providing comprehensive information about formalities, services and activities in the area.
We will lead you to the most important institutions and companies needed for your relocation. If you have any more questions, the team of Expat Center East-Netherlands is more than happy to help you.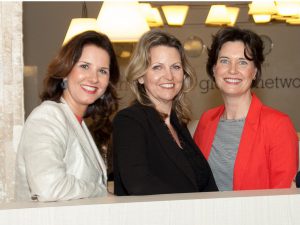 Our team f.l.t.r: Cornelieke Harreman, Manon Vierdag and Michelle Ekkelkamp
Expat Center East Netherlands; Your connection to the East Netherlands!
We proudly work for a variety of international oriented companies, from start-ups to multinationals, of which the following corporate partners: