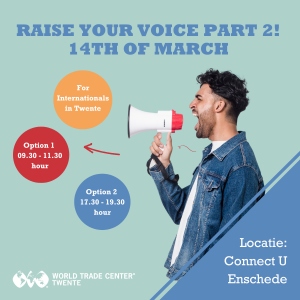 𝗧𝗮𝗸𝗲 𝗽𝗮𝗿𝘁 𝗶𝗻 𝗶𝗺𝗽𝗿𝗼𝘃𝗶𝗻𝗴 𝗧𝘄𝗲𝗻𝘁𝗲 𝗳𝗼𝗿 𝗜𝗻𝘁𝗲𝗿𝗻𝗮𝘁𝗶𝗼𝗻𝗮𝗹𝘀!
We want to make Twente even better for you (Expats, international students and young professionals). Discuss with us topics like healthcare, career, events, culture, housing, networking and many more. What kind of issues did you ran into upon arrival? Raise your voice and let us know how we can improve your quality of living. This is a follow up of the Raise your Voice event from last year and powered by Twente Board.
𝗦𝗶𝗴𝗻 𝘂𝗽 𝗳𝗼𝗿 𝘁𝗵𝗶𝘀 𝗴𝗿𝗲𝗮𝘁 𝗲𝘃𝗲𝗻𝘁 𝘁𝗼 𝗹𝗲𝘁 𝘂𝘀 𝗸𝗻𝗼𝘄 𝘄𝗵𝗮𝘁 𝘄𝗲 𝗰𝗮𝗻 𝗱𝗼 𝗯𝗲𝘁𝘁𝗲𝗿 𝗳𝗼𝗿 𝘆𝗼𝘂!
There are 2 sessions. Registration is required by using the links below: