Upcoming Events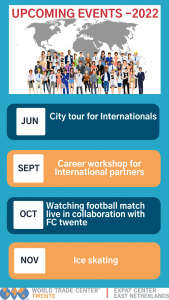 We are happy to announce the following events which are a wonderful mix of practical en fun gatherings; great opportunities to get together, make new friends and learn a little about the Twente region.
Apart from these special events we'll also keep on hosting the monthly Expat Meet & Greet at Cafe Fellini.
** Ice skating on natural ice is becoming more and more a rare activity, but skating on the ice skating rink in Enschede is a great alternative. Learn skating during the lesson and have a drink and snack afterwards.
Details of all these events will follow, so keep an eye on our socials en your inbox for the detailed invitation.
** And of course we'll host the monthly Expat Meet & Greet, every first Thursday of the month in Cafe Fellini in Enschede.
We are looking forward seeing you at one of these events !