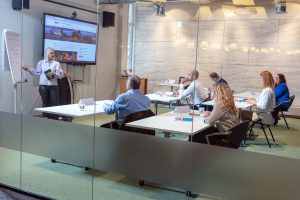 Expat Center East Netherlands has been organising their own Dutch language training for over 5 years. With professional teachers, small groups and evenening courses we offer an unique way to learn the Dutch language and culture.
We closed registration for the next courses of September, but will start new courses after the Christmas break in 2023.
BASIC COURSE: Level A0-A1, 16
BEGINNERS COURSE: Level A1-A2, 16
ADVANCED COURSE: Level A2-B1, 32
Costs:
Basic and Beginners course: € 560,–
Advanced course: € 1120,–
Including text book
All lessons are held in the World Trade Center Twente, in Hengelo (Industrieplein 1, next to the Hengelo train station)
Once a week, 2 hours from 18.00.
Sign up or request for more information by sending us an email; info@ecen.nl