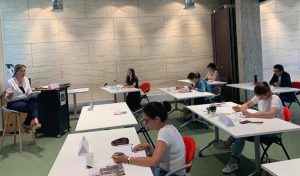 Learning Dutch is a good way to speed up integration, connect better with colleagues and neighbours and learn more about local culture. Apart from these practical reasons, it's a nice way to meet other people as well.
The Expat Center organises Dutch language courses throughout the year and the next editions will start in August. Sign up now for

Beginners level, first lesson August 27th
Advanced level, first lesson August 25th
Both are held in the World Trade Center Twente in Hengelo (next to the train station), from 18.00-20.00. The total course is 13 lessons and costs €475,– including text book.
Send us an email for more details and registration: info@ecen.nl