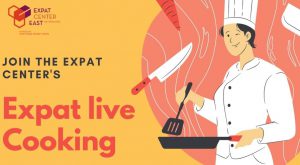 After the succes of last month, we'll cook again online.
Join our Expat Live Cooking on March 18. Share your favorite dish and we'll cook it together from 18.30!
From the group of attendees, we will select 1 person beforehand who will lead the cooking session. The receipe and ingredients you'll receive on time, together with a Zoom link.
Register via this link and we hope to see you all next week!